Books
The Complete Guide to Adaptogens: From Ashwagandha to Rhodiola, Medicinal Herbs that Transform and Heal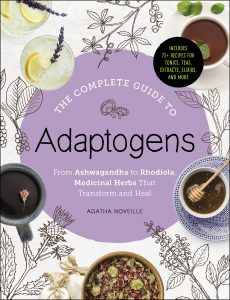 In the tradition of the bestselling Alchemy of Herbs, The Complete Guide to Adaptogens details the benefits of twenty-four adaptogenic herbs, and includes more than seventy-five recipes that target specific wellness categories such as sleep, mental focus, beauty—and more!
In The Complete Guide to Adaptagens, you'll learn about the numerous benefits of twenty-four popular adaptogenic herbs, including Rhodiola, Ashwagandha, Maca, He Shou Wu, and Holy Basil. You'll also find more than seventy-five easy recipes for potions and remedies to improve sleep, mood, mental focus, immune function, stamina, as well as general wellness and beauty. These all-natural, safe remedies fight the effects of chronic stress, while restoring your body's balance, health, and vitality.
Buy the Book
Pre-order The Complete Guide to Adaptogens through Amazon or Barnes and Noble. Thank you for supporting my work!